Our members come from all disciplines of the construction and real estate industry and beyond. From one-person offices to global corporations, we welcome all of them. Because everyone can contribute their individual expertise to our work, take away new impulses for their own actions, share experiences and make valuable contacts for their own company.
Achieve more together: Shape a sustainable future with us
The DGNB is a participatory association. Everyone can get involved with us and promote for more sustainability. Even though our common denominator is sustainable building, there are many different areas of expertise and topics behind it. For example, a medium-sized communications agency that advises architecture and planning offices in rural areas can contribute to the transformation of the sector just as much as the professionals or decision makers of a large construction company.
We see ourselves as a network of forward thinkers and doers. Instead of making big speeches, we want to bring everyone along as best we can, motivate them to rethink and get them doing. We can only make sustainability the new normal if everyone pulls together - from the smallest to the largest.
"The Council's goal is to promote sustainability throughout the construction and real estate sectors and beyond, and to raise consciousness in the general public. The Council aims to present and promote ways and means of sustainable planning, design, and use of our built environment, in order to create living space that is exemplary in terms of environmental, economical, sociocultural, and functional aspects. The Council supports research, development, and teaching towards this goal and sees itself as an organization which promotes the public good."

(Excerpt from the DGNB bylaws)
In just a few steps: How to become a member of the DGNB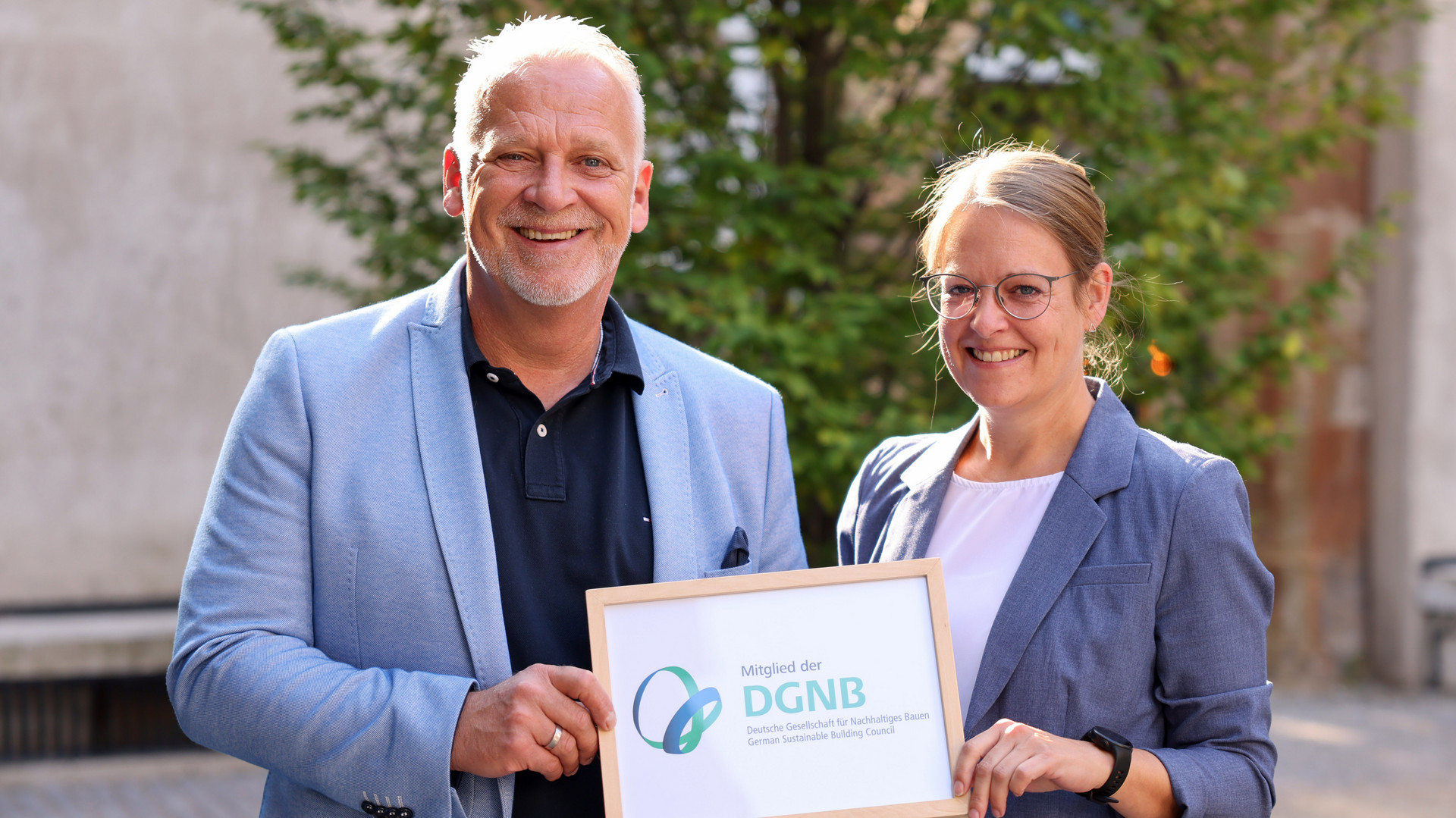 You have decided to join our association and want to apply for membership? It's easy and takes just a few minutes. Simply fill out the digital application form. Alternatively, you can also fill out the membership application as a pdf, sign it and send it to us.
Become a DGNB member: Our digital application form
Further information on DGNB membership
Statements from DGNB members
"The DGNB was founded at a time when no one knew what sustainability in construction meant. If you look at how far we have come as an association with our work, it is impressive. The best thing about it is that, as a member of the DGNB, it is possible to incorporate your own ideas in such a way that they have an impact."
Prof. Amandus Samsøe Sattler
DGNB President, co-founder and owner of studio ensømble berlin
"I have learned at the DGNB that it is important to do things instead of just talking about them. The DGNB has remained courageous over the years, has a passion for innovation and is moving towards change."
Martin Haas
DGNB Vice President, Founder haascookzemmrich STUDIO 2050
"In the last two years in particular, the urgency and necessity of the instruments developed by the DGNB and the knowledge it has gathered have once again been drastically confirmed. The DGNB has been very successful in the last 15 years, also thanks to the immense voluntary commitment of its members. At the same time, a lot of work still awaits us as a network."
Prof. Alexander Rudolphi
DGNB Founding President, Managing Director Rudolphi + Rudolphi
"Where would we be today on the issue of sustainability without the DGNB? Through the questions that the DGNB asks and which it also answers, new starting points can always be found. The DGNB has become an important source of impetus across national borders, and together we are helping to shape the transformation processes in the entire construction value chain."
Andrea Gebhard
Member of the DGNB Board of Directors, President Federal Chamber of Architects
Building for tomorrow, today
The DGNB members' brochure provides an overview of the many benefits enjoyed by members of the DGNB. Whether you're just interested in finding out more or are already a DGNB member, look out for the sections on Using the Network, Taking Responsibility and Shaping the future for details of the many different ways you can become actively involved in the activities of the DGNB. At the end of each section is a checklist for members to ensure they are making optimum use of their membership.
---