Most of our lives are spent in and around buildings. We are often unaware of the impact the built environment has on us. For example, green spaces and biodiversity affect the microclimate and air quality of the city. Factors such as accessibility and facilities that meet the needs of all affect our well-being. And the correct handling of contaminated products in buildings is important for our health.
What can be done to make buildings and the open spaces around them socially, economically and ecologically sustainable? How can we combine biodiversity and urbanity? And what measures can be taken to improve the quality of life in buildings and districts?
The DGNB seminars on "Biodiversity & People" deal with the potential of biodiversity in commercial open spaces, living building envelopes through façade and roof greening, the correct handling of pollutants during renovation and accessibility.
Bookable individually
Digital and interactive in small group format
Direct exchange with lecturers and participants
Recognised as further education by the Chamber of Architects of Baden-Württemberg
After successful participation, you will receive a confirmation of participation from us. You can use this, for example, as proof for further training points at the Chamber of Architects in Baden-Württemberg.
DGNB certification experts can use these seminars to collect further training points to obtain their licence.
---
Please note: As the seminars are held in German, please switch to German language settings to make a booking.
---
---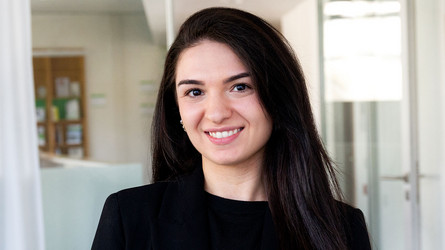 Eda Yilmaz
Seminars and University Partnerships