The principle of sustainability has developed from a fashionable term to probably the most important guideline in planning and building practice. This involves far more than simply considering ecological issues or aspects of energy efficiency. In the sense of the DGNB sustainability in the built environment is synonymous with quality and future viability.
Sustainable building is holistic and life-cycle oriented
The sustainability approach that the DGNB pursues with all its activities is based on a three-pillar model consisting of: Economy, Ecology and Social. In simplified terms, this can be applied to building as follows:
Economy refers to the fact that we consider buildings in an economically sensible way and over their entire life cycle. They are to be planned, constructed and operated in such a way that they can be used in the long term - from a financial point of view, but also with a view to flexible convertibility.
Ecology - to put it simply - stands for the construction of buildings that conserves resources and protects the environment. Among other things, it is about the avoidance of pollutants and hazardous substances, a climate-friendly construction method with the smallest possible CO2 footprint and the promotion of biodiversity.

The social focus is on the users of the built environment with their desire for health, comfort and well-being. Here, the human being should be at the centre of planning.
In addition, numerous other aspects play an important role. From a technical point of view, topics such as deconstructability and recyclability or the quality of the building envelope. Or various process criteria that serve quality assurance over the entire project duration. Site-related aspects also play a role in achieving a plus in sustainability. Last but not least, for the DGNB, the quality of design and building culture is part of a holistically sustainable building.
You can speak of sustainable action when these different dimensions are brought into harmony. There is no one universally valid solution. Every building task is individual to a certain degree. Sustainable building is about getting the maximum out of the available possibilities in terms of holistic quality. Or, to put it another way: better buildings and districts.
Sustainability as a cost driver? Quite the opposite!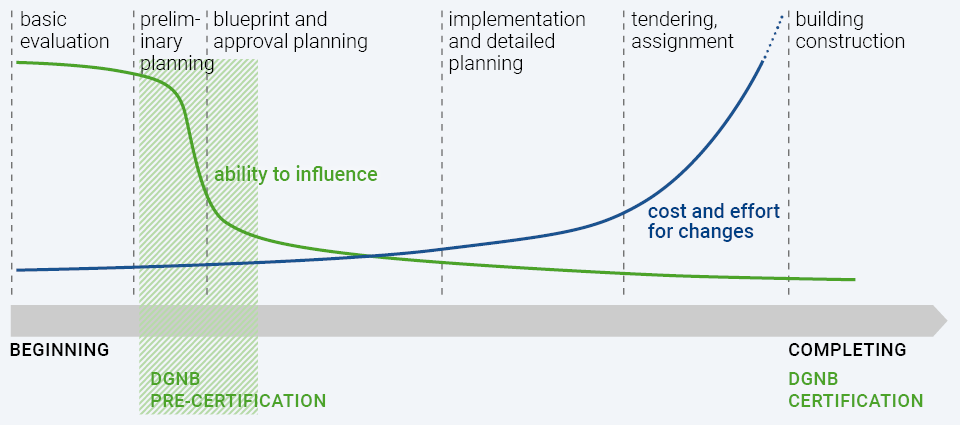 A prejudice persists when it comes to sustainability in general and sustainable building in particular: the allegedly high costs. Here, however, it is worth taking a second look and comparing, for example, the different products available. The surprising thing: Products that fulfil sustainability features are often not more expensive at all. And those who consciously choose them can even save money in the end. The background: such products pay off over time, as they ensure, for example, that operating costs are lower in the long term.
In addition, there are studies showing that projects having a sustainability certification such as that of the DGNB are worth significantly more than comparable buildings. Lower vacancy rates are another factor. Likewise, lower operating costs due to the building's or site's own production of renewable energy. Initial surveys also suggest that employees' sick days can be reduced in sustainable office buildings. In view of the increasing shortage of skilled workers, more and more companies understand that sustainable real estate is becoming a competitive factor for them.
And also with a view to certification, the often widespread cost prejudice cannot really be proven. Studies show that there is no discernible connection between cost increases and the outcome of certification. It is much more decisive to deal with the different requirements at an earlier planning stage. Larger additional costs, on the other hand, arise from necessary planning changes in late project phases. In addition, sustainability certifications are playing an increasingly important role in the course of EU activities around the topic of sustainable finance in terms of investment security and risk minimisation.
Important topics of sustainable building
In order to give you a better understanding of sustainable building, we have compiled separate sections on our website for some of the most important aspects. Here you will find a lot of in-depth information on specific topics, such as studies, guidelines or best practices. This list is by no means complete and we will successively add further topics.