DGNB Certification basically runs parallel to the other processes of a project. Used correctly, the certification system supports you as a planning and optimisation tool from the conception phase to completion. Undesirable developments can be identified at an early stage. This makes quality measurable and transparent.
Process of DGNB Certification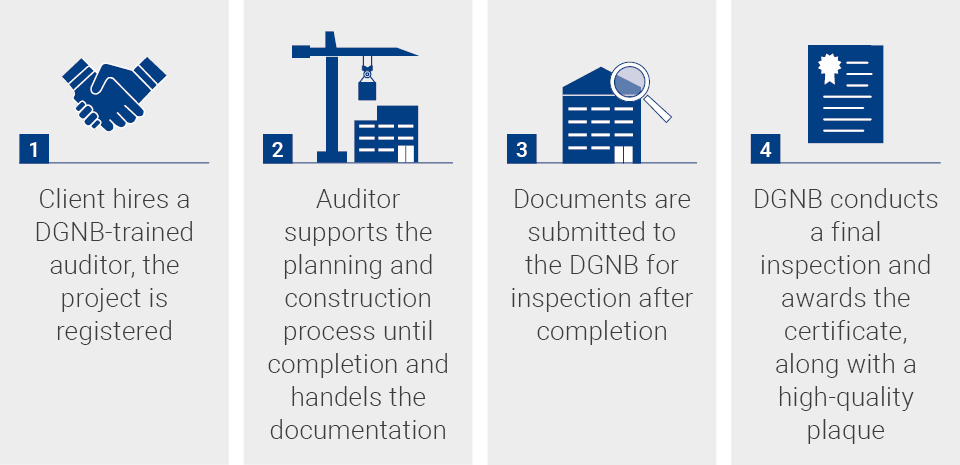 Anyone seeking DGNB Certification must consider a number of formal aspects, for instance with regard to project registration and documentation. For example, a client always needs a DGNB-qualified auditor. This DGNB Auditor supports the client and accompanies the process from registration to certification to completion.
The client concludes a contract with the DGNB Auditor and a certification contract with the DGNB. There is deliberately no contractual relationship between the DGNB and the DGNB Auditor in order to maintain the greatest possible objectivity and independence.
After submission of all required documents by the DGNB Auditor, the DGNB carries out a conformity check. Based on the resulting assessment, the DGNB awards the project a certificate in Platinum, Gold, Silver or Bronze.
What you need to be aware of during the course of DGNB Certification
There are various steps to take during the different phases of certification with the DGNB: starting with the search for a suitable DGNB Auditor, through project registration, the use of the DGNB System Software, to the payment of certification fees. Here you will find the most relevant information on the way to DGNB Certification: